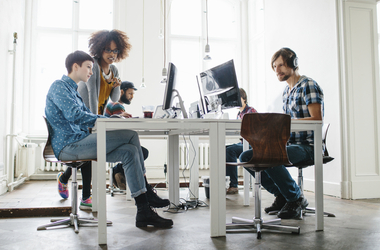 There is no doubt that 2016 was scary but 2017 is here and it is time to embrace it. 2017 will mean even more change and that includes your workplace. Read on for our five top predictions on the #FutureofWork 2017
1. Expect more conversations around culture, flexible working and remote working
Despite the geopolitical turmoil, a looming Brexit and the reality of a Trump presidency just beginning to sink in; the short-term jobs situation in Ireland remains strong. Recent figures released by the CSO Central Statistics Office (CSO) show there was an annual increase in employment of 2.9 per cent, or 56,200, in the second quarter of 2016, bringing the total to 2.01 million. Although this is still 6.8 per cent below the peak of 2.16 million recorded in 2007, those figures are pretty strong. This is also the 16th consecutive quarter in which unemployment has fallen. As the economy powers ahead expect organisations to become more inventive on how to retain and attract highly skilled professionals, especially those in the Technology space. Expect more conversations around culture, flexible working and remote working. Small innovative companies like Scrapping Hub are leading the way and expect larger organisations to try and mirror those propositions when they can.
2. Do not expect the conversation on inclusion and diversity to go away.
Building a culture of inclusion is a top driver of financial performance and the data proves this. According to Bersin by Deloitte , building an inclusive culture" is now the no. 1 predictive strategy for global financial performance, bringing this topic into the focus on CEOs and senior executives. In practise this means Talent Management needs to be re-worked to embed inclusion and diversity into every people practice in an organisation (from sourcing to recruiting to assessment to promotion). In Silicon Valley companies are now bending over backwards to promote programs focused on women, race, and cultural diversity. This is never just about individuals or companies, it is about society as a whole as Gillian Tett outlines so aptly in her book The Silo Effect: A Case for Diversity & Silo Busting. Again there will be more innovation in this space. Companies which continue to do what they always do can expect the same (vanilla) results.
3. Transparency and trust remain important items for all corporations from big multinationals like Apple to small charities.
Within a strong jobs market professionals will have more bandwidth to pick and chose and increasingly young professionals and looking to companies which align to their values (yes millennials, am looking at you here).
4. The "gig" economy is here to stay but as it beds in expect to hear more about the negatives involved.
Freelancing or contracting can offer professionals greater freedom and be financially more rewarding. But that is not always the case across the board, particularly at the lower end of the salary scale. Court cases late last year in both London and LA could be about to spell the end of Uber even as it pivots madly towards fixed assets.
5. Increasing innovation in HR Technology.
Big data will make an impact here as organisations strive to improve employee engagement and productivity. Culture is everything as proven by Netflix but organisations are increasingly aware that the old tools will not bring them where they need to go. Expect real-time feedback and analytics will explode. A new generation of HR Tools are emerging, some of which like CoreHR are based here in Ireland and booming. As with all big data, the company which is able to pinpoint what is important among the mass of data and action it accordingly, wins.
---